750XL

Perform Where Others Can't
This aircraft has such unique Extremely Short Take-Off and Landing (XSTOL) capabilities that it demanded a class of its own. The result of more than fifty years of evolution, the  750XL is the world's first XSTOL aircraft unmatched by any other production aircraft and sets the benchmark for ten seater utility aircraft.  The 750XL is Single Pilot IFR Certified (FAA) and in 2012 gained certification against ICAO Annex 6 for Single Engine IFR Passenger Transport Operations.
The 750XL delivers unsurpassed capability to provide:
Take off and landing in less than 800 ft (244m), even when it is hot and high.
Operate off semi-prepared airstrips in all types of terrain.
Carry a load of more than 4,000 lb even in hot and high conditions.
Rugged construction with a low 150-hour airframe/engine inspection interval and 39,000 hours before any scheduled airframe maintenance requirement.
Proven, globally supported components from leading aerospace companies, including Pratt & Whitney, Hartzell, Garmin and Honeywell.
To get a better appreciation of this amazing aircraft you can either:
Versatile - One Plane, So Many Applications....
Passenger / Utility / Freight
Sets the benchmark for 10-seater STOL utility aircraft.
A 240 cu ft cabin complemented by an optional 70 cu ft cargo pod and 18 cu ft rear storage compartment.
Ability to carry passengers on one leg then in 30 minutes have the seats removed and stored in the rear compartment making the full cabin and cargo pod available for carrying freight on the return leg.
Large single compartment cargo pod with 1,000 lb (454 kg) capacity which has no impact on aircraft cruise speed and loading access via three side doors and one large rear ramp.
Option of robust metal compartment lining with wall-mounted track for use with cargo nets and a partition located behind the pilot.
Ability to take a mixed load of passengers and freight on the same flight.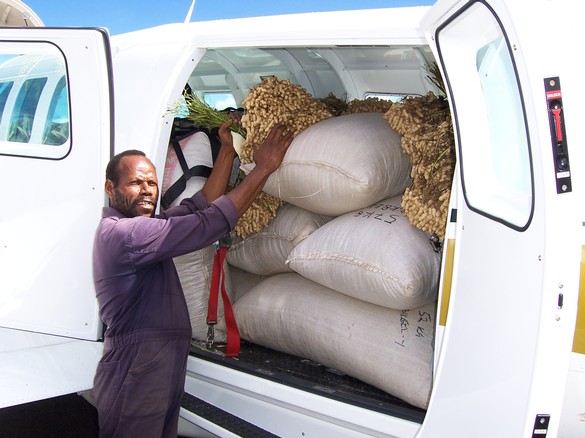 Skydive
Globally recognised as the ultimate skydiving platform providing unmatched safety, productivity and profitability for its operators.
Ability to climb rapidly to jump height (e.g. sea level to 12,000 ft in ten minutes) and then be back at the air strip ready for another load before the jumpers land, enabling the aircraft to average four loads per hour.
Able to carry seventeen skydivers or six tandem teams.
Wide centre of gravity range making it a very stable jump platform.
Climb and descent profile is about half the horizontal airspace of most other jump planes, assisting operation in noise-sensitive areas.
Factory installed skydiving modification that can be operated by the pilot ensuring no open-door speed restrictions on descent.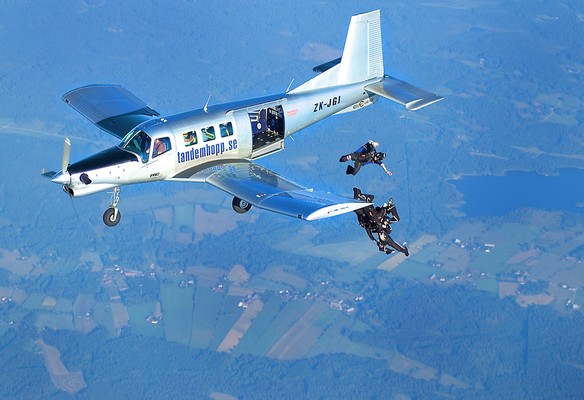 Aerial Survey
Superior stability even at low-speed allows the aircraft to even undertake survey roles usually reserved for helicopters.
Factory-approved modifications support easy installation of camera holes in the floor of the aircraft and side wall mounted track for the attachment of equipment.
An electrically quiet aircraft with minimal electro-magnetic interference (EMI) and all major control systems mechanical rather than electric.
The aircraft structure serves as an effective faraday cage blocking out external static electric fields.
No requirement for control cable rerouting or other customisation of the aircraft systems.
Can be readily customer-modified for geophysical survey work.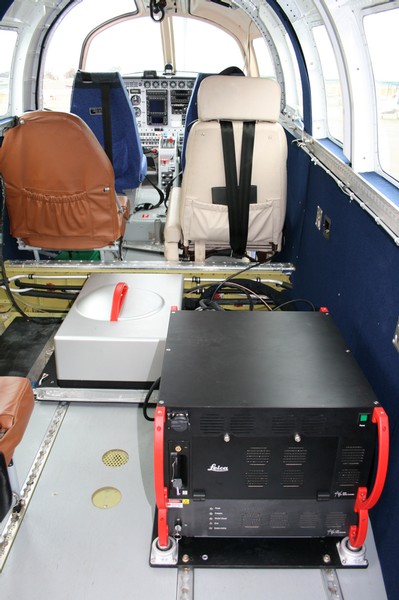 Crop Dusting, Spraying or Fire Fighting
Able to carry a 4,888lb (2,272 kg) hopper.
Rear mounted hopper allowing for excellent forward visibility and tricycle landing gear for excellent ground manoeuvrability.
Effectively operates off short, narrow farm air strips that are often situated on ridgelines.
Operators commonly complete up to 17 cycles (load, take-off, dispense, land) per hour.
Hopper can be removed without affecting the airframe, allowing versatility in the roles of the aircraft.
Aircraft can be converted to another factory-approved configuration maximising its useful life and resale value.